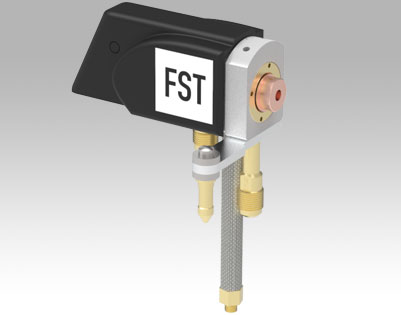 3MB plasma spray guns are well-known by the thermal spray industry for their reliability and are one of the most used plasma spray guns worldwide.

The 3MB is a general-purpose spray gun that produces high quality, consistent and repeatable thermal sprayed coatings.

The 3MB can be considered a benchmark of the industry and is highly regarded for its ruggedness and dependable performance. Many OEM's have selected the 3MB for various coating application specifications.

The 3MB is capable of depositing high-quality coatings of metal, metal alloys, carbides, composites, blends, cermets, abradable and ceramic powders.

The 3MB is available in both machine mount (3MBM) and handheld (3MBH) configurations.

Modular construction allows for easy maintenance of major gun components. Nozzles and electrodes are simple plug-in/pullout assemblies that require no alignment or adjustment.
The 3MB series plasma gun is capable of operating efficiently with a single primary gas of pure argon or nitrogen and with multi-gas parameters of argon, nitrogen, hydrogen and helium.

Features & benefits
Powerful (40 kW @ 100 % duty cycle)
High heat output (up to 16000 °C)
High plasma gas velocity (up to 3050 m / s)
High particle velocities (up to 610 m / s)
Simple, versatile design
Compact size
Available as machine mount or handheld
Ease of operation, maintenance and installation
Complete range of nozzle and powder port components
Dual Gas Capability – operates with either argon or nitrogen as the primary plasma gas.

3MB plasma spray gun

3MB Plasma Gun spare parts FST