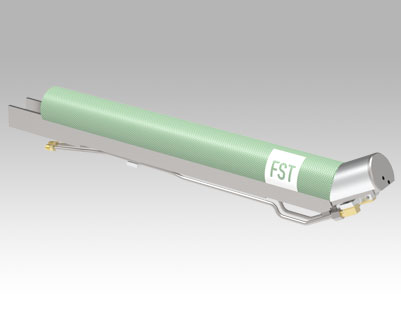 The 3MBT is a heavy-duty, extension plasma spray gun that is widely utilized throughout the thermal spray industry, and has been selected as the equipment of choice for a wide variety of coating applications.

Modular construction allows for easy maintenance of major gun components. Nozzles and electrodes are simple plug-in/pullout assemblies that require no alignment or adjustment.

The 3MBT is based on the design of the reliable 3MB plasma spray gun, a proven performer throughout the thermal spray coating industry. The 3MBT uses many of the same parts as 3MB series guns, including gun components such as nozzles, electrodes, powder ports and O-rings.

When coating internal surfaces as small as 100 mm (4 in) in diameter, 3MB series parameters can be used as a starting point for the 3MBT torch.

Features & benefits 3MBT ID-Plasma Spray Gun
Powerful (40 kW @ 100% duty cycle)
Versatile coating choices using a full complement of coating materials for practically any application
Applies high-quality TBC ceramics and associated bond coats
Coats internal geometries as small as 100 mm (4 in)
Spray angle of 90° or 30°
Uses many of the same spare parts as 3MB series guns, reducing the number of spare parts to stock
Uses standard 3MB series plasma spray parameters for many applications, reducing parameter development time
Inexpensive operation using low-cost nitrogen as the plasma spray gas
Low operating cost per hour

3MBT ID plasma spray gun