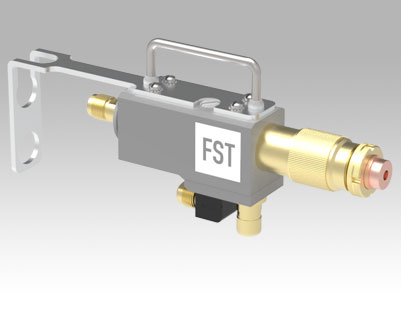 9MB plasma spray guns are well-known by the thermal spray industry for their reliability and are one of the most used plasma spray guns worldwide.

Designed and constructed with high-performance hardware, 9MB plasma guns provide high kW range capability while offering extended component service life.

The guns have been carefully engineered to achieve optimum heat transfer through uniform distribution of the cooling water within the electrode and nozzle. This has resulted in the reduction of downtime, increased productivity, reduced maintenance and lower operating costs.

The 9MB is capable of depositing high-quality coatings of metal, metal alloys, carbides, composites, blends, cermets, abradable and ceramic powders.

The 9MB is available in both machine mount (9MBM) and handheld (9MBH) configurations. Modular construction allows for easy maintenance of major gun components. Nozzles and electrodes are simple plug-in/pullout assemblies.

The 9MB is capable of operating efficiently with a single primary gas of pure argon or nitrogen and with multi-gas parameters of argon, nitrogen, hydrogen and helium.

Features & benefits 9MB Plasma Spray Gun

High power (80 kW @ 100% duty cycle)
High heat output (up to 16000 °C)
High plasma gas velocity (up to 3050 m / s)
High particle velocities (up to 610 m / s)
High spray rates – improved production time.
Ease of operation, maintenance, and installation – ideally suited for general purpose and advanced coating applications
The design of the electrode allows for water cooling into the critical tungsten tip area, resulting in improved electrode life.
Long-life gas insulators – fabricated from heat resistant ceramics, ensure durability and uniform gas flow at high power levels.
Hardware design – allows easy replacement and changeover of nozzles, electrodes and gas insulator assemblies.
Proven nozzle design –economical replacement cost.
Dual Gas Capability – operates with either argon or nitrogen as the primary plasma gas.

9MB plasma spray gun

9MB Plasma Spray Gun spare parts FST