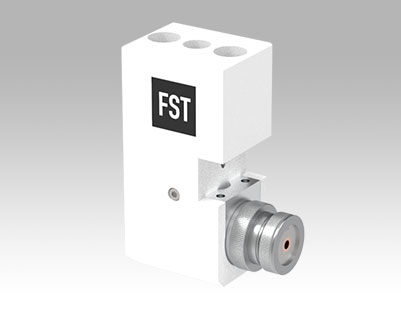 The F4 HBS is a machine-mounted, multi-purpose air plasma spray gun used for external coating applications. The gun is capable of operating at power levels up to 55 kW.
The F4 plasma gun is engineered for reliable quality coatings that meet or exceed the requirements of many OEM specifications.
Equipped with the standard nozzle of 6 mm, virtually all spray parameters can be met, minimizing hardware changes. For example; many multi-layered material applications can be applied without hardware changes between bond coat and topcoat application.
Engineered for reliable, trouble-free operation, the F4 is capable of depositing high-quality coatings of plasma sprayed metals, metal alloys, carbides, composites, blends, cermets, abradables and oxide ceramics.
The F4 HBS can be operated with combinations of argon, hydrogen and helium plasma gases. Special nozzles are also available for use with nitrogen and nitrogen-hydrogen plasma gas mixtures.
The F4 HBS nozzles are tungsten lined for extended nozzle life. The nozzle design forms a uniform and stable plasma that results in high deposition efficiencies and minimal overspray.
Quality spare parts, designed for extended service life and safety, assure increased productivity and reproducible coatings. Contact your FST representative for details.
All guns are designed in accordance to the latest European CE regulations.
Options and accessories
FST offers various accessories including:
F4 centering tool
F4 injector gauge set
Various powder injector assemblies
Air jet assembly
Hoses and cable made to length
Parts, spare parts and consumables