Horizon™

operation software
FST Horizon™ professional Thermal Spray Software – operates multiple thermal spray processes in one modular software platform. Increase your production output by using FST's reliable, versatile, unmatched process control delivered by FST's 50 Digital Series systems.
FST | Horizon™ operation software
FST | Horizon™ data reporting
FST | Horizon™ maintenance scheduler
FST | Horizon™ information center
FST | Horizon™

operation software
User friendly intuitive interface design.
Ready for industry 4.0 and IIoT through OPC UA.
One software version for multi-processes:

HVOF / APS / Combustion spray.

Master / slave control of external devices.
Close loop control of all relevant media.
Multiple gun technology.
Receipt mode / Idle mode.
Flame detection / safeguarding.
Data logging / data trending.
Receipt management.
Alarm tolerance levels per media.
Automatic receipt back-up.
User levels / user management.
Alarm page incl. remedy messages.
References to FST documentation.
Consumption page.
Counters on all media.
Overview page of all profinet connected components.
Control your production process with FST Horizon™ operation software.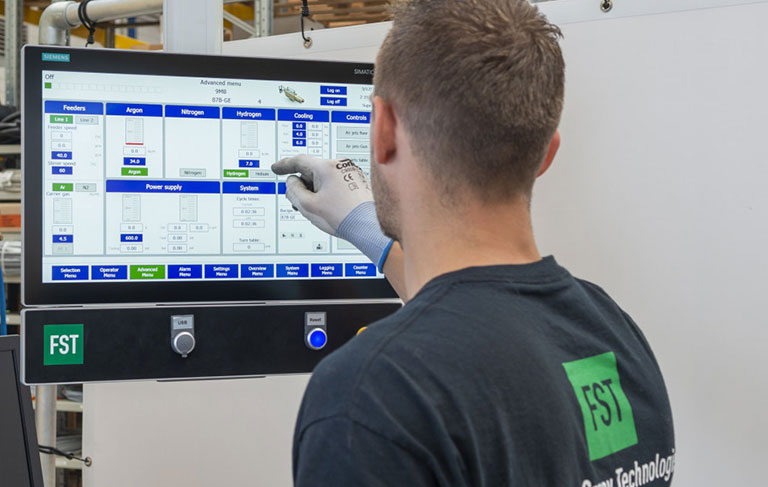 FST | Horizon™

data reporting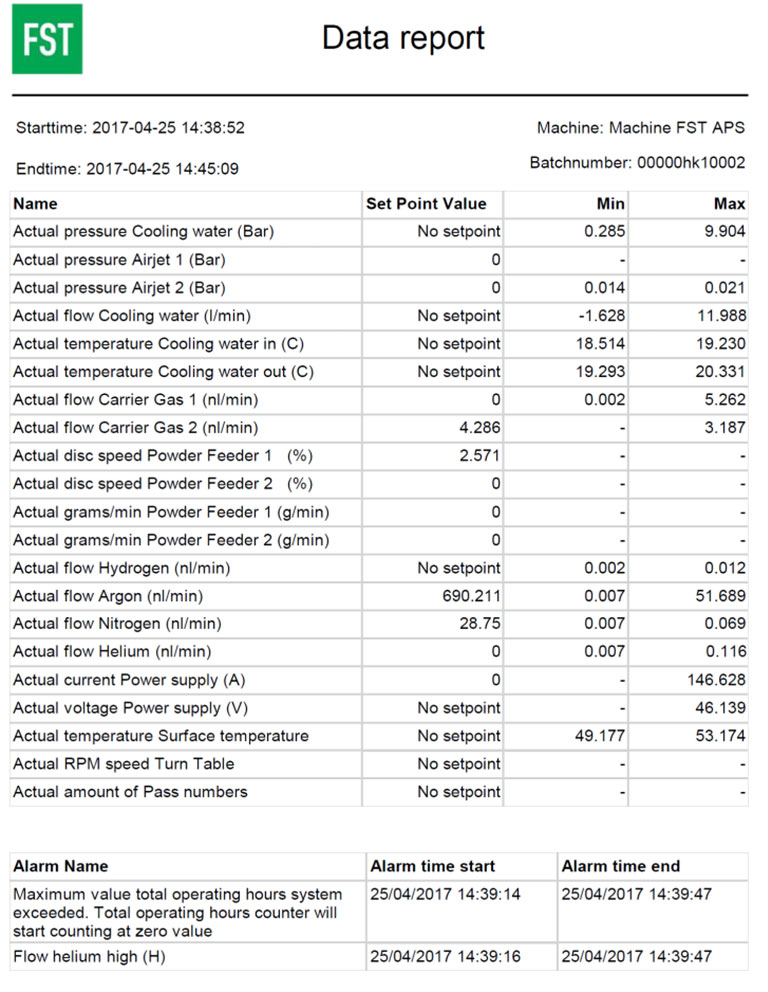 The Horizon™ data reporting software filters production process data and displays a complete production report. These reports can be used internally for quality control or as external reporting. The Horizon™ data reporting software will detect each spray cycle and log and stores all relevant data per specific time interval under a specific batch number. The batch number is entered at FST Horizon™ operation software at the start of the production process. This tool provides real-time insight on production activity and historical production data.
Logging per batch interval or time interval.
Batch selection possible by means of barcode scanner.
Remote Real-time insights on your production process.
Among other values, the following process values are logged and reported:
Process media flows (actual and set point).
Carrier gas flows (actual and set point).
Powder feeder feed rate in percentage.
Cooling water flow.
Cooling water temperature (In / Out).
Amperage (actual and set point).
Plasma gun Voltage.
Cycle time (start / stop process).
Operating hours system (total).
Operating hours feeders (total).
Alarms (occurred during spray cycle).
Stand-by time.
Production time.
Other values are configurable in the set-up menu.
Get insight on your production with FST's Horizon™ data reporting tool.
FST | Horizon™

maintenance scheduler
The Horizon™ maintenance scheduler software is used to plan and schedule maintenance and calibration intervals. In the user-friendly scheduler, standard and/or personal intervals can be entered / scheduled. The Scheduler warns the operator in case of regular scheduled maintenance, or calibrations requirements that are close to due date or due. Through warnings levels and system locks the operator is forced to schedule and perform critical maintenance. The detailed maintenance instructions can be found in the system documentation. This is information is also accessible via FST's Horizon information center.
FST | Horizon™ maintenance scheduler features:
User and rights for different log-in levels.
Configurable according your requirements.
Maintenance type description.
Counters for each maintenance type.
Maintenance planning and performing.
Maintenance types and instructions.
Maintenance execution planner.
Maintenance reporting.
Manual references.
Avoid unplanned down-time and guarantee optimal system performance with FST Horizon™ maintenance scheduler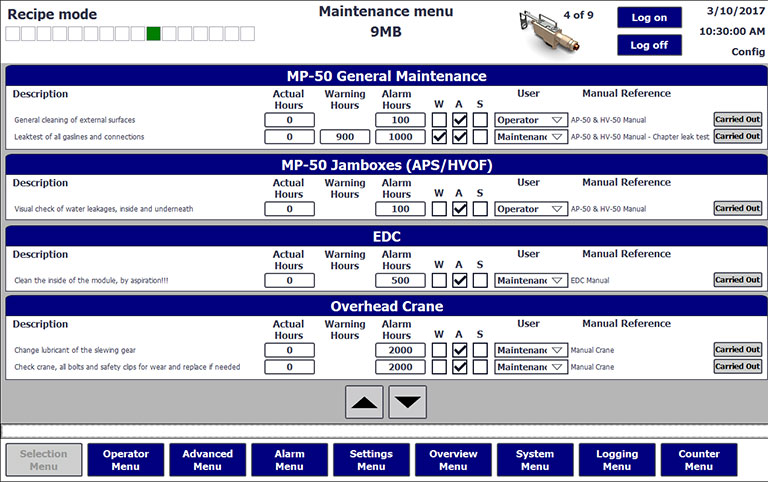 FST | Horizon™

information center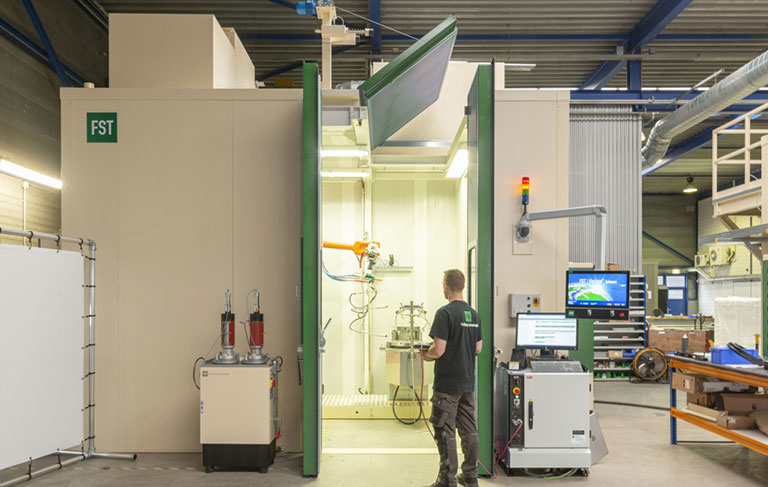 Each FST Horizon™ information center works on a standard software frame work but is fine-tuned to be of optimal usage for your production site. FST software engineers will integrate the FST Horizon™ information center with your existing facility and ERP system. The Horizon information center software can be directly integrated with your 50 Digital Series system and leads the operator through a predefined and approved production program. FST Horizon™ information center displays all relevant information such as the work instructions and maintenance requirements. A step-by-step instruction guides the operator through the entire production process eliminating operating errors, improving productivity and minimizing training requirements.
FST | Horizon™ information center features:
Production information.
Work instruction by PDF's, videos, images.
Tool verification by RFID or barcode scanner.
Step-by-step instruction guide for operators.
Manufacturing process planning for your applications.
Operator messaging - relating to the production process.
OPC UA Monitoring to external device for dashboard.
Local interfacing between various FST system at your site.
Global interfacing between systems within company.
Remote uploading of robot programs via OPC UA.
User and rights for different operators.
Multi-language.
Remote support.

Maximize your production efficiency and minimize operator errors with FST Horizon™ information center.
More information about FST | Horizon™ ?