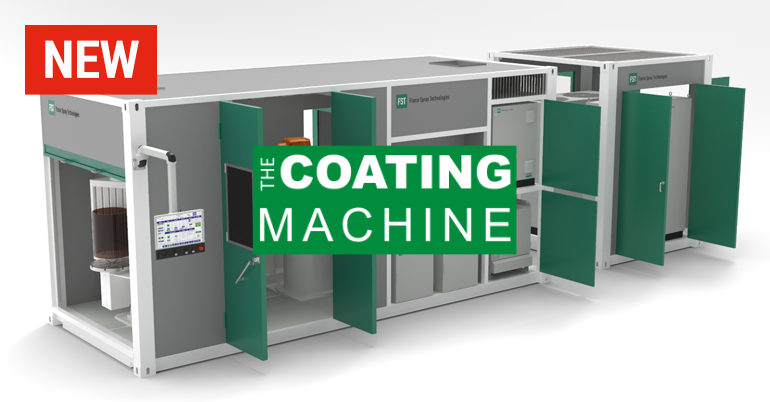 In response to customer requests and current market developments Flame Spray Technologies has developed The Coating Machine ™; a very complete flame spray production unit designed to service a wide variety of applications and markets. The Coating Machine™ is designed with standardization in mind, while offering customers multiple options to meet their specific needs.
Plug and play - flame spray production unit
The new flame spray production unit is available in three different configurations to match your production needs. A Type I configuration has a turn table for loading multiple products, Type II is equipped with a station carousel and Type III has a 3500 mm spray lathe. Depending on the equipment chosen, the units can provide the following processes: HVOF, APS, Flame Wire, Flame Powder and Arc-Spray. Typically, the system will be operated using Flame Spray Technologies' state of the art Digital 50 Series process controllers and the well proven Horizon Thermal Spray Software.
Features and benefits of The Coating Machine™:
Shipped as a fully operational unit, production ready
Cost reduction due to standardization, with options to choose from
Pre-installed and commissioned equipment
Essentially plug and play spray facility
Robustly built to the highest standard
More information?
Read more about The Coating Machine™ on the product tab within the turn-key systems product information page or contact your local FST representative.