More and more companies moving towards FST's sustainable HVOF technology and investing in the eGun™. With more than 35 systems sold since its introduction, this advanced HVOF spray gun has proven itself in the field, ensuring a greatly improved coating quality in many processes.
In response to customer requests and current market developments Flame Spray Technologies has developed The Coating Machine ™; a very complete flame spray production unit designed to service a wide variety of applications and markets. The Coating Machine™ is designed with standardization in mind, while offering customers multiple options to meet their specific needs.
A gun running at higher pressures, improving the coating quality
The eGun™ is a liquid fuel HVOF torch that uses ethanol as its fuel. The spray gun can operate at combustion chamber pressures up to 13 bar (188 PSI). This pressure is 3 to 5 bar (43 – 73 PSI) higher than conventional kerosene HP-HVOF systems. Higher pressures in the combustion chamber have shown to generate higher flame velocities which in turn generate higher particle velocities. A higher particle velocity results in improved coating density and better overall coating integrity. Moreover, with this gun it is also possible to run at low flame velocity for slow and hot parameters to produce very good bonding (rough) flash coats.
An overview of the eGun™ benefits:
Larger window of operation vs kerosene, thus better control over the balance between kinetic and thermal energy of the particles.
30%-50% reduction in oxygen usage
Up to 50% reduction in required cooling power
No ash formation and less toxic fumes
Environmentally friendly
Consistent fuel
Easy smooth system starts and ramp-ups
Ability to run very fuel-rich, creating new coatings and application opportunities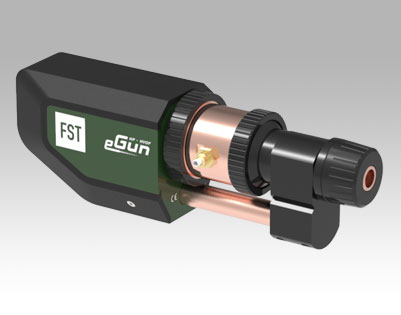 More information or an upgrade of your existing HVOF system?
More detailed information can be found on our eGun™ HVOF spray gun and the HV-50-LF HVOF systems with liquid fuel page. Please contact our engineering department or one of the local offices for specific questions about your application and the correct choice of spray gun type.