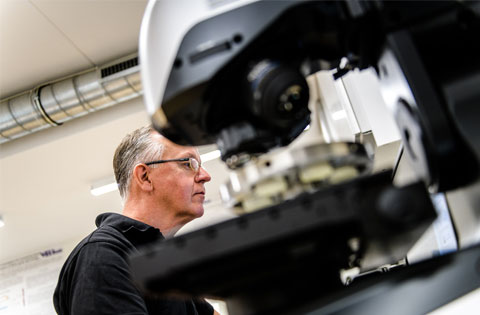 Knowing the coating properties such as microstructures, hardness, bond strength are crucial for understanding the coatings produced in your daily operations. It is laboratory research that could also lead to the creation of new coatings for both high-tech and low-tech applications for industries including automotive, aerospace, bio-technology, electronic, oil&gas and many others. Typical coatings consist of different materials with varying degrees of general microstructural properties, hardness and bond strength. FST laboratory services can support your coating operation by providing you scientific insight on coating properties.
Microstructural analysis plays a vital role in the formation and understanding of thermally-sprayed coatings. FST has the experience, knowledge and resources available to provide you with full support in finding solutions for your specific surface problems or requirements, such as:
Abrasion & erosion resistance
Fretting & galling resistance
Sliding wear resistance
Cavitation resistance
Chemical attack resistance
High-temperature oxidation & sulfidation resistance
Thermal, diffusion & electrical insulation
Thermal & electrical conductivity
Abradability
FST offers the following metallography laboratory services:
Tensile bond strength test ISO DIN 582
Sampling, Samples preparation, Polishing or re-polishing
Hardness Tester: Vickers and Rockwell
Rubber Wheel Wear Test according to ASTM G65
Micro hardness Vickers (calibrated for 0.2, 0.3, 0.5)
Microstructure analysis (2D porosity, Thickness, Dimensions, Interface contamination)
View, Capture and Measure from X20 to X2500 magnification
Depth Compositions (3D Viewing) and Image Stitching
Gravimetrical measurements (accuracy 0.0001g)
EN ISO 4490 Hall Flow
EN ISO 3923 Apparent Density
FST is a NEN-EN-ISO 9001:2020 & NEN-EN-ISO 14001:2020 certified company.