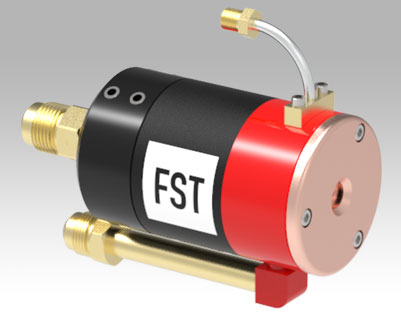 The SG-100 Plasma Spray Gun is a high power (80 kW) multi-purpose plasma spray gun. The SG-100 is suitable for both high volume production applications as well as lower volume applications where system flexibility is required.

The SG-100's unique design accepts internal or external powder injection. Internal injection ensures maximum powder particle entrainment at the point of highest energy within the plasma stream, providing optimum energy transfer and particle velocity, which combine to create high coating deposition efficiencies. The SG-100's two internal powder injection ports can be used individually, simultaneously for high spray rates, or for mixing materials within the plasma stream.

Available as options are external powder injection ports. The external ports can be used in place of the internal ports, or in conjunction with the internal ports. Both internal and external powder injection offer a variety of injection angles. The combination of dual internal and external powder injection makes the SG-100 the most versatile and efficient plasma spray tool available. Through a variety of hardware options offered, the SG-100 can operate in a range of spray velocities, or modes, including subsonic, Mach I, and Mach II at up to 80 kW power levels.

The SG-100 can use a variety of process gases including Argon, Nitrogen, Helium, and Hydrogen. When rebuilding is required, the SG-100's small number of components and self- aligning design make the job quick and accurate: the SG-100 cannot be assembled incorrectly and requires no adjustments.

Features and benefits SG-100 Plasma Spray Gun
High power (80 kW)
Self-aligning components
Range of powder port hardware configurations
Extended life anodes and cathodes
High deposit efficiencies
90º adaptor
Internal diameter torch options (2700, 2086)

SG-100 plasma spray gun

SG-100 Plasma Spray Gun spare parts FST