Powder feeders supplied by FST are designed for all powder based thermal spray processes. Our Feeders have excellent track records in providing high precision and repeatable powder feed for both thermal spray and laser cladding processes.
Description

FST-10 & FST-20 Powder Feeders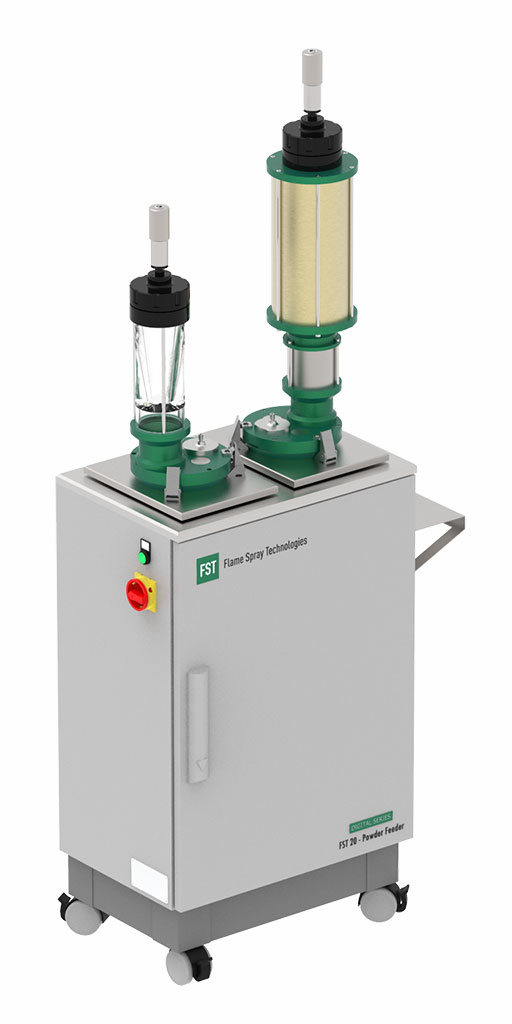 FST offers the FST-10 (single feeder) and FST-20 (twin feeder). The FST-20 versions can operate two feeding lines separately or simultaneously (dual feeding principle).
All FST powder feeders are also available as stand-alone units. Stand-alone feeders can be operated independent from external controller or digitally master / slave integrated via profinet with existing thermal spray or laser cladding systems. The feeding principle is based on the volumetric principle and provides continuous feeding and precise and reproducible powder feed rates. A weight loss option is available allowing for closed loop feed rate control based on material weight in grams per minute. The powder feeders can be equipped with mass flow controllers for accurate and consistent control of the carrier gases.
When integrated with FST digital series all powder feed functions are closed loop controlled by the FST Horizon operation software. Stand-alone feeders have an independent control panel for setting the required powder feed parameters. The hoppers can be equipped with special disc and spreader/suction units for process specific and stable powder feed rates for different applications. The FST-10 or FST-20 powder feeders are equipped with 1.5 or 5.0 liter hoppers and can be equipped with heating devices. The powder hoppers are designed for high pressure processes up to 11 bar (150 psi).

PF-50 Powder Feeder
The PF-50 is a pressurized unit specifically designed for thermal spray applications. The PF-50 is an economical powder feeder for all powder- based thermal spray processes. The PF-50's proven design has become a standard in the thermal spray industry and offers great powder feeding accuracy and repeatability. The heart of the electrical controls is the digital controller, offering precise and consistent wheel speed (displayed in revolutions per minute (RPM)).
The feeder operates on a volumetric principle that directly controls the powder feed rate by the speed of the powder wheel. During operation the slots in the powder wheel fill with powder. Gravity, carrier gas, and rotation of the powder wheel deliver the powder to the powder hose. An inert carrier gas provides canister pressurization then transports the powder to the thermal spray torch. To set the wheel speed, simply enter the desired RPM into the controller. When the PF-50 is switched to Feed Mode, the powder wheel will ramp-up to the set RPM, holding that speed accurately. The feeder is not backpressure sensitive and operates with backpressures of up to 6.2 bar (90 psi). A high pressure option 11 bar (150 psi) is also available.